Power Source:

Solar
Type:

Chest / Deep Freezer
Defrost Type:

Manual Defrost
Temperature Type:

Single-Temperature
Door Type:

Swing Door
Door No.:

Single Door
Certification:

CE, SASO
Dimensions (L x W x H (Inches):

625*488*735
Power (W):

60
Place of Origin:

China (Mainland)
Model Number:

BD-105
Brand Name:

MEILILE
Voltage(DC):

DC12/24/36V Automatically recognize
Refrigerator compartment temperature:

0°C-10°C
Freezer compartment temperature:

-18°C
Ambient temperature:

45°C
Warranty:

1 year
Advantage:

Equipped with Self-produced DC Compressors
Refrigerant:

R134a / R600a
Packaging Details

Packaging Details:

For sample : wooden case(Custom suffocating free/non-fumigation).

For container: Standard carton

Loading quantity:

20GP container:68pcs

40GP container:140pcs

40HQ container:210pcs
Delivery Time

Within 20 days after receiving the deposit
Product Description
Features:
1.Win several national patents
2.Using own developped DC compressor
3.Automatically low voltage cut out to protect batteries
4.Wide working voltage range: 10.5V~42.5V
5.Application : solar energy ,boat,commecial,etc.
6.Cooling performance:45min to -18oC at 45oC room temperature
7.DC compressors manufacture for more than 10 years.
8.No AC Inverter needed
9.Environmentally friendly CFC-free refrigerant (R-134a/R-600a)
10.High temperature resistance and energy saving design
11.Low power consumption makes best use of available power
12.Using AC110/220V power through AC/DC adaptor
      Energy Efficient Refrigeration Save on costs with Meilile  DC refrigerators and freezers.  These high efficiency refrigerators and freezers have exceptionally low energy consumption requiring smaller, less expensive power systems and low operating expense.High quality construction provides excellent reliability and long life.  A zero maintenance,brushless, thermostatically controlled Meilile DC compressor operates on 24 or 36V DC. 
      With thick insulation and a self-produced compress refrigeration system optimized for solar, Meilile refrigerators and freezers provide outstanding economical and reliable operation.Low energy consumption is the key that allows Meilile refrigerators and freezers to be cost effectively powered from solar, wind, fuel cells or batteries. This technology allows refrigeration in remote locations where it was previously unavailable or prohibitively expensive.
Model
BD-105
Power Consumption
60W
Input Voltage
DC 12V/24V/36V
Freezing Capacity
105 Liters 
Product Size(mm)
Length*Width*Height
625*488*735
Carton Size(mm)
Length*Width*Height
675*555*810
N.W./G.W.(KG)
27/32
Loading Quantity
68PCS/20GP 
140PCS/40GP
210PCS/40HQ
Compare with other supplier
   
Packaging Details:
For sample :  wooden case(Custom suffocating free/non-fumigation).By Air or Express.
For container: Standard carton.By Sea. 
Delivery Detail:
For sample :  3 days
For container: 15-20 days after receiving the deposit
Loading quantity:
20GP container:68pcs
40GP container:140pcs
40HQ container:210pcs
We have a rebate policy for 3 months accumalate orders.
We can provide spare parts(compressors,fans,bulbs,controllers,etc) to support you
We can provide complete solar kits accessory
We can do OEM for your own logo and brand
We can do ODM develop for different special DC voltage (DC48V/60V/120V)
 Our Variety Products:
Fridge&Freezer:
12L,15L,18L,25L,35L,45L,60L,80L
Solar/DC Refrigerator(1 door): 50L,70L,90L
Solar/DC Refrigerator(2 door): 
98L,118L,138L,158L,168L,188L,198L,218L,238L,268L,328L,368L,428L,468L,568L
Solar/DC Refrigerator(3&4 door): 188L,218L,418L
105L,135L,155L,165L,185L,215L,245L,315L,365L,425L,525L,725L,865L,1015L,1615L
Solar/DC Upright Freezer: 40L,60L,100L,180L,270L
Solar/DC Glass-Door Freezer:189L,239L,269L,289L,319L,329L,369L
Solar/DC Vertical Showcase:196L,236L,256L,336L
Solar DC Wine-cooler:70L,100L,120L
Solar DC Air-conditioner:
Solar DC Fan: 
48 inch Ceiling Fan,48 inch Ceiling Fan
DC Fridge&Freezer Compressor:
BD35,BD52,BD62,BD72,BD92,BD120
DC Air-conditioner Compressor:
110/220V Compressor:
     Taizhou Meilile Refrigeration Equipment Co.,Ltd. specializes in the development ,manufacture and marketing of the refrigeration products.We mainly produce the refrigeration products which use the new energy with high efficiency and high cost performance.Such as DC compressors and AC compressors,DC refrigerators,DC freezers and DC air-conditioners etc.
     Meilile company was established in 1998.With developing more than one type of new products per year since 2000,Meilile has 5 series and 60 variety types products now.All products have a great reputation and admiration between the domestic and international clients for their stable performance and high quality.And there is over 95% of these series of refrigeration compressors and DC refrigerators are exported to more than 20 countries around the world.
     The company is continuously innovating,and can develop the refrigeration products for special use and different power supply according to the clients' request.The company is now producing a complete series of DC (solar) refrigerator and freezer which have the fashionable style and use high efficiency,wide voltage range DC compressors.She has won 8 national patents as the high-tech design dc power products so far.
    Meililers will always carry through honest,win-win and the customer supreme idea. And with high quality products,professional team, copious practical experience to meet your request and provide the more perfect service.
     Let "Meilile" contributes her own strength to "Beauty the life,Promote the convenience,Create the happiness" for the human beings.
Factory Shows
Manufacturing advanced high quality products !
Providing professional first class services !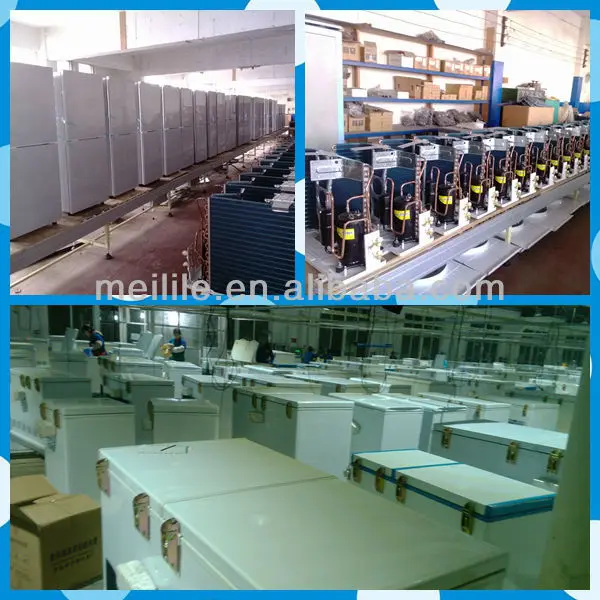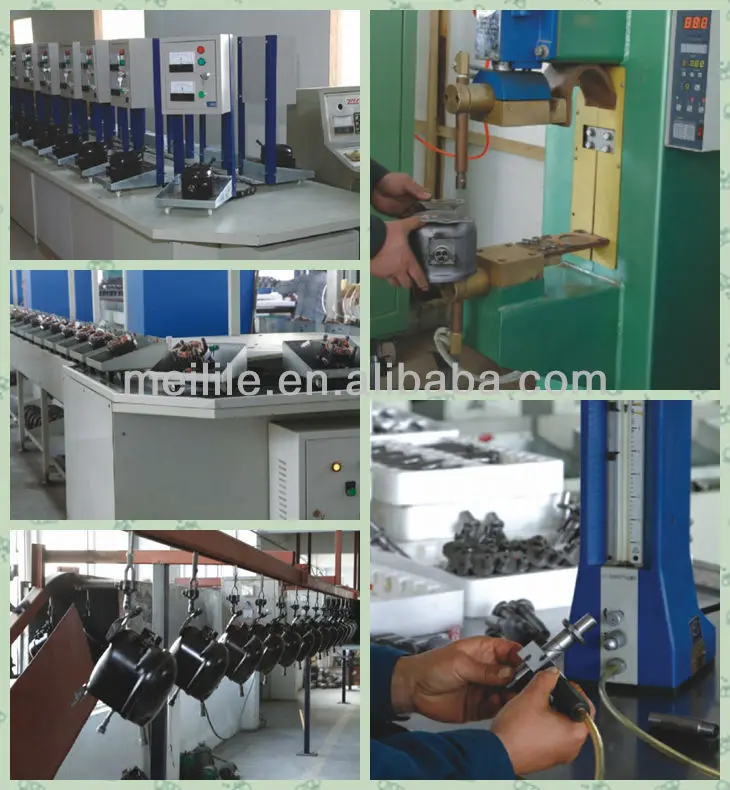 Attended Exhibition:
2012 SNEC PV POWER EXPO in Shanghai
2012 BIG 5 Exhibition in Dubai  UAE
We attend the CRH Chinese&International Refrigeration&Heating Exhibition every year.
1. What's Meilile's advantage?
Equipped with ecough-power self-produced DC compressor,Meilile DC fridge&freezer has a perfect cooling performance even at 45oC ambient temperature. 
2. What is the input voltage for the Meilile DC/solar freezer/fridge?
Generally input voltage  is DC 12/24/36V, the range is from 10.5V to 43V 
3.Is AC100~240V power accepted by Meilile DC/solar  freezer/fridge?
AC100~240V  power can be input by an adapter;
Never input AC100~240V power to  DC freezer/fridge directly. 
4. Is  Meilile DC/solar  freezer/fridge   more efficient than AC freezer/fridge?
DC freezer/fridge reduces 20~30% power than same AC freezer/fridge 
5. How to equip the solar system for the  Meilile DC/solar  freezer/fridge ?
Solar system(solar panel,battery) should be based on  using time,ambient temperature,cloudy/rainy day ,use of the DC freezer/fridge,etc.Please inquiry us or seek help from solar engineer if you are not sure.
https://www.alibaba.com/product-detail/Meilile-BD-105-DC-Solar-Chest_60026466735.html