Place of Origin:

Shanghai, China (Mainland), China(shanghai)
Brand Name:

Meluck
Model Number:

JZBF
describtion:

condensing unit
Refrigreant:

R22/R404A
Voltage:

380V/3P/50HZ
Certification:

CE
Type:

water cooled & air cooled
shipping port:

Shanghai Port
for:

JZB series cold room refrigeration condensing unit )
Packaging Details

wooden case/carton
Delivery Time

35
1. Product description
The JZB series features by their Semi-Hermetic Bitzer compressor, it includes 4 series of product of air cooled and water
cooled, middle and high, middle and low temperature range.
Main components
compressor ,oil heating ,vibration eliminator,oil separator ,condenser,receiver ,filter ,sight glasses ,solenoid valve ,H/L P gauge ,mechnical P controller ,oil protection,gas separator ,suction filter ,cylinder fan
The above components may be different for air cooled and water cooled products.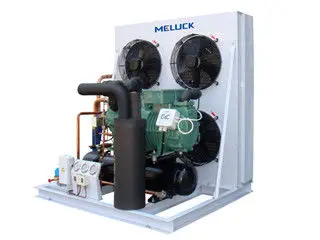 Air cooled refrigerant R22 units
Model

JZBF02M

JZBF02M

JZBF03M

JZBF03M

JZBF03M

JZBF04M

JZBF05M

Comp model

2HC2.2

2GC2.2

2FC3.2

2EC3.2

2DC3.2

2CC4.2

4FC5.2

   Temperature ( °C)

-5°C ~5 °C

Power supply

380V/3PH/50 HZ
Model

JZBF06M

JZBF07M

JZBF09M

JZBF10M

JZBF12M

JZBF15M

JZBF20M

Comp model

4EC6.2

4DC7.2

4CC9.2

4VCS10.2

4TCS12.2

4PCS15.2

4NCS20.2

Temperature ( °C)

-5°C ~5 °C

Power supply

380V/3PH/50 HZ



Model

JZBF25M

JZBF30M

JZBF35M

JZBF40M

JZBF50M

Comp model

4H25.2

4G30.2

6H35.2

6G40.2

6F50.2

Temperature ( °C)

-5°C ~5 °C

Power supply

380V/3PH/50 HZ
Model

JZBF01L

JZBF02L

JZBF02L

JZBF02L

JZBF03L

JZBF03L

JZBF04L

Comp model

2HC1.2

2FC2.2

2EC2.2

2DC2.2

2CC3.2

4FC3.2

4EC4.2

Temperature ( °C)

-15°C ~-20 °C

Power supply

380V/3PH/50 HZ



Model

JZBF05L

JZBF06L

JZBF08L

JZBF10L

JZBF12L

JZBF15L

JZBF20L

Comp model

4DC5.2

4CC6.2

4TCS8.2

4PCS10.2

4NCS12.2

4H15.2

4G20.2

Temperature ( °C)

-15°C ~-20 °C

Power supply

380V/3PH/50 HZ
Model

JZBF25L

JZBF30L

JZBF40L

Comp model

6H25.2

6G30.2

6F40.2

   Temperature ( °C)

-15°C ~-20 °C

Power supply

380V/3PH/50 HZ
Model

JZBF02MY

JZBF02MY

JZBF03MY

JZBF03MY

JZBF03MY

JZBF04MY

JZBF05MY

Comp model

2HC2.2Y

2GC2.2Y

2FC3.2Y

2EC3.2Y

2DC3.2Y

2CC4.2Y

4FC5.2Y

Temperature ( °C)

-5°C ~5 °C

Power supply

380V/3PH/50 HZ
Model

JZBF06MY

JZBF07MY

JZBF09MY

JZBF10MY

JZBF12MY

JZBF15MY

JZBF20MY

Comp model

4EC6.2Y

4DC7.2Y

4CC9.2Y

4VCS10.2Y

4TCS12.2Y

4PCS15.2Y

4NCS20.2Y

Temperature ( °C)

-5°C ~5 °C

Power supply

380V/3PH/50 HZ
https://www.alibaba.com/product-detail/JZB-series-cold-room-refrigeration-condensing_1121987573.html